Preschool through 12th Grade Curriculum Overview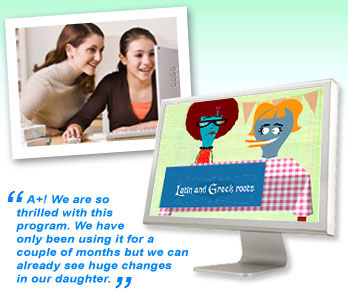 View Our Lesson Demos
Time4Learning is an award-winning online education program for preschool through twelfth grade that uses multimedia activities to teach standards-based curriculum. It is a popular homeschool curriculum, afterschool tutorial, summer skill sharpener and test preparation tool.
The table below offers a grade-by-grade curriculum overview for preschool to eighth grade, and high school. Grade levels can be set independent from one another for each subject. In addition, students will be able to access to at least 2 (and in most cases 3) grade levels of curriculum for each subject, so they can move ahead or review at their own pace. (excludes high school courses)
If you are just learning about Time4Learning, we suggest also looking at our interactive lesson demos.
Grade By Grade Curriculum Overview
Click the screenshots to browse lesson plans for each grade
High School Courses - Curriculum Overview
English
English 1

English 2

English 3

English 4

Math
Algebra 1

Geometry

Algebra 2

Trigonometry

Pre-Calculus

Science
Biology


Chemistry


Physics


Social Studies
US History 1


World History


US History 2


US Government
/Civics

The Time4Learning Curriculum Structure
Time4Learning has been refined through years of feedback from educators, parents, and students. Subjects are organized into chapters composed of interactive lessons, printable worksheets, quizzes and tests. Students are guided through the activities at their own pace by an automated system.
When students log in, they choose a subject, select a chapter, pick a lesson and complete the activities. A check-mark tells them where they left off, and completed work is clearly labeled with a check-mark or a gold star. Visual and auditory prompts guide students through the lessons, making it easy for even young learners to follow, and an online playground (controlled by parents) rewards and motivates them to finish their lessons.
Parents get access to printable lesson plans, teaching tools, detailed reporting and community support.
Does your child have different achievement levels for math and language arts? No problem! Time4Learning lets you set each individual subject at the appropriate graded level, making this curriculum great for special needs and gifted students.