Time4Learning as a Homeschool Curriculum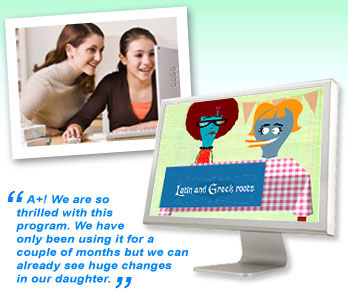 View Our Lesson Demos
How do I use Time4Learning as a homeschool program?
Time4Learning is a great homeschooling partner. As part of the partnership, we feel it is important to be realistic and frank with our members. Below are three questions that we are frequently asked which, at the end of the day, each family must answer for themselves while remaining compliant with their state's legal requirements.
We've asked Kelly, a homeschool mother of six to share her views on some commonly asked questions. Take it away, Kelly:
Is Time4Learning a complete homeschool curriculum?
I would be cautious about a curriculum that promised to be all that your child will ever need. My children are each very different so I treat each one appropriately. As an example, here is the starting point that I would take for a second grader in language arts and math.
Starting with the language arts program, reading is very important to us so our schedule includes a weekly library visit to pick up new books. There is an hour of daily reading. Beginning readers read aloud to mom.
My children write in their journals each day for 15 minutes. We have rotating assignments through the week including summaries of books we've read, reflections on the weekend, and summary of lessons from Time4Learning. On Friday, they choose their favorite journal entry from the week, correct any spelling, punctuation, or grammar errors and write the edited version in their best penmanship.
I have a handwriting program to develop fine motor skills and learn penmanship.
Our family uses Time4Learning for the bulk of our language arts curriculum. Time4Learning's language arts curriculum is thorough in its coverage of phonics, grammar, vocabulary, verbal comprehension and reading comprehension. If I feel my child needs additional practice on a certain language concept, I can usually find it in the Time4Learning language arts extensions. I use their scope and sequence to help me choose enrichment activities and to schedule them.
I have children with a range of math abilities and Time4Learning has been a good choice for all of them. I add math drills for the kids who need it.
How do you organize your homeschool program using Time4Learning and its reports?
With Time4Learning, my lesson planning has been reduced to simple division. A typical school year consists of 34 weeks. I plan on 32 weeks, to provide a scheduling safety net. For each child,I get the number of lesson activities in each subject from the lesson plans and divide by 32 weeks. That tells me approximately how much my child needs to do each week to finish that subject in one school year. I tell my children to do any quizzes or tests as soon as they finish the associated lesson activities, so I don't have to schedule extra days for those assessments.
Our school day begins at 8:00. I read aloud to the whole family in our living room for an hour, while they drink cocoa and nibble on fruit and rolls or another simple breakfast. It's easier for me to get everyone out of bed if they know all they have to do is wander into the living room in their pajamas and sit down. I choose books that are fun, yet educational. We've read the classics, we've taken turns reading parts in plays, and we probably know everything there is to know about dinosaurs from our family reading sessions!
From 9:00 until 10:00, everyone attends to his own grooming and chores. By 10:00, the children are on their computers, doing their main schoolwork with Time4Learning. We have tried doing certain subjects on certain days, but I found it simpler to keep our school days consistent.
Here is what my fifth grader does in Time4Learning each day:
Math: Two lesson activities
Language Arts: One lesson activity
Science: One lesson activity
Social Studies: Two lesson activities
Spelling OR Vocabulary: One "page" of a lesson activity
Language Arts Extensions: We begin the Extensions when we are finished with that year's core Language Arts program and do one lesson activity per day until the school year is over.
Most of my children are finished with their individual computer lessons by noon. After lunch, they have a quiet time of reading on their own and then we work on art, Spanish, or unit studies together as a family.
My children rarely work on their Time4Learning lessons for more than two hours per day. If someone doesn't finish with what I have scheduled for them, they have "homework". That's our family's way of saying they need to do the rest of their lessons after dinner, before they are allowed to watch a movie or play videogames.
Time4Learning is vibrant, engaging, educational, and funny. It sure beats our previous homeschool curriculum which was textbook/workbook based.
Time4Learning is so effective that very little intervention is required. This works great if you're homeschooling multiple children.
How do you use its reports?
For me, a major advantage of Time4Learning is that most of my children's work is graded for me. I've spent too many evenings seated at my dining room table, with a stack of answer keys on one side and a pile of workbooks on the other. Because of my aversion to grading papers, we only use the printable resources that Time4Learning provides if someone needs extra practice on a concept, but I'm glad to have them available when we need them.
In the evenings, I look at the Reports in everyone's Time4Learning portfolio. This allows me to notice if someone is having trouble with some aspect of their lessons, and I will tutor them on that concept the following day. I pay attention to the time they have spent on each lesson, too. I once noticed a child had "finished" a six-page lesson in eight seconds. With printed report in hand, I was able to address that situation the following day.
I also preview the children's upcoming lessons in the evening. I don't do every lesson myself, but I get a general idea of what they are studying. Often, I plan the next day's family reading session based on what one of the children will be studying in social studies or science. For science, I glance through their lessons to find yellow boxes that tell me I need to have supplies ready for an experiment. I preview science lessons several days in advance, so we can be prepared.
I do carefully ration my children's doses of Time4Learning. It's a simple matter of supply and demand! If they get as much of something as they want, that thing loses value to them. Time4Learning is their favorite curriculum and I want to keep them interested, so I don't allow them to proceed at a breakneck pace, as they would like to do. Most children retain what they have learned through small, daily sessions better than material presented during a lengthy weekly marathon at the computer. Music teachers understand this concept, which is why their students are instructed to practice for short periods of time each day.
Is Time4Learning self-running?
Yes, it's much like when you have an automated self-running dishwasher. Of course, first you have to take the dishes off the table, rinse them off, and put them into the machine. Then, once you've added soap, it washes them automatically so you can rest until it's time to take the dishes out of the machine and put them into the shelves while checking to make sure that they are clean.
What this means in my family is very different with each child. Some of them sit down eagerly and do their school work. When they don't understand something, they come to me for help. For them, my weekly review of their progress reports is mostly a chance to explain to me what the lessons were about and, in cases where their score was low they explain why.
With some other children, I need to provide closer supervision to make sure that they are being diligent about their studies.