Learning to Read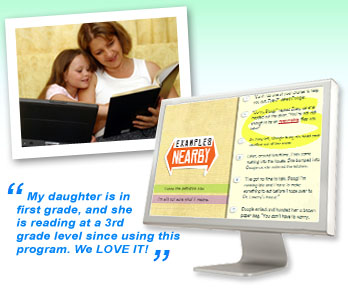 View Our Lesson Demos
Learning to read is an exciting time for children and their families. For many parents, helping their child learning to read established a pattern for their involvement in their child's academic education.
Parents can help their children with the reading process by providing high-quality educational materials, establishing a pattern of daily reading, instructing through guided reading activity, creating a rich language environment, discussing a child's progress with teachers, and following up on their recommendations.
Time4Learning teaches reading as part of our comprehensive language arts curriculum. Animated characters present the lessons, giving your child the means to engage the material, not just read it.
Below, you'll find a few important tips to help your child learn to read.
Be Involved and Patient
Learning to read is the culmination of a great many learned skills and developmental processes. Learning to read is a long-term program. At times, there is no visible progress. At other times, they make dramatic daily progress. In all cases, show patience, confidence, and be encouraging of new skills.
Learn About Learning to Read
Just as children start with tee ball before playing baseball, there are specific steps in learning to read. Trying to teach the steps out of sequence can inadvertently frustrate your child (and you). For instance, prior to successfully learning phonics, the child should master a set of pre-reading skills including understanding basic print concepts, discerning the sounds, understanding that words are made up of sounds which they need to think about as interchangeable parts, and memorizing the alphabet. To help parents understand the steps in learning to read, Time4Learning has developed the Reading Skills Pyramid. And while most children do follow this sequence, be aware that each child is different and that there are a great number of variations.
Learning to Read is Multimodal
Learning to read is easiest if you involve all the children's learning styles and modalities. They should see the words on wall posters, have toys in the shapes of letters to play with, being drawing them, playing games with them on the computer, and of course, seeing them in books. Each of these different activities helps develop prereading skills. The Time4Learning language arts program can serve as the core or supplementary curriculum for children learning to read. Learn more about how Time4Learning's online program can help your children's education.
Build Reading Skills – One Section in the Reading Skills Pyramid
The Reading Skills Pyramid illustrates that there are many steps to becoming a proficient reader. Generally, the skills can be split into two halves: one half is word decoding which is made up of phonemic awareness, phonics. The other half is made up of a set of skills that falls into three categories: comprehension, vocabulary, and fluency.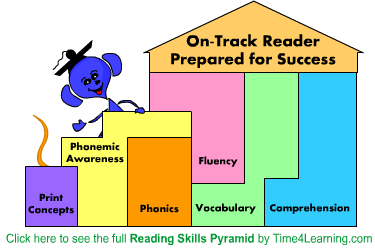 Order a printed wall copy of the Reading Skills Pyramid.