Interactive Online Reading Programs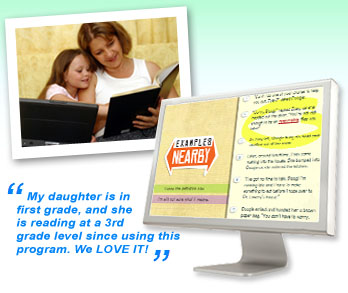 View Our Lesson Demos
Skilled, fluent readers are the culmination of the successful learning of a broad array of pre-reading and reading skills. Irrespective of family background, learning to be a skilled reader is often not a trouble-free process. The reading process has been organized into five major steps: phonemic awareness,phonics, reading comprehension, vocabulary and reading fluency. Remedial reading programs, personalized tutoring, reading workbooks, educational games, and structured computer reading programs can help teach or reinforce these skills.
Some children need reading practice, while others need more intensive remedial reading programs. Parents can help their children with the reading process by providing high-quality educational materials, establishing a pattern of daily reading, instructing through guided reading activity, creating a rich language environment, discussing a child's progress with teachers, and following up on their recommendations.
Time4Learning's reading lessons are fun, computer reading programs, which helps reinforce reading skills at home through educational activities and learning games.
Learning through Guided Reading Activity
Guided reading activity helps build reading skills. Computer reading programs at Time4Learning help children starting with phonics, verbal comprehension and vocabulary, through guided reading activity that is highly motivational. Parents can reinforce our computer reading programs by becoming active part of their child's education process and following up with additional reading practice. Parents should read to their kids, help them sound out words, and guide their reading activity, but not do it for them. Guided reading activity requires patience and understanding to help but not get in the way.
Guided reading activity builds vocabulary, fluency, and comprehension. Reading comprehension skills separate the "passive" unskilled reader from the "active" readers. Skilled readers don't just read, they interact with the text. Online computer reading programs are wonderful, because the nature of the Internet makes reading an interactive activity.
Reading Activities for Students
To help students understand how to interact with the text, you can practice reading on the computer with a number of reading activities. You must make them privy to the dialogue readers have with themselves while reading. Parents should guide their young reader by asking them to complete the following reading activities for students:
Predict what will happen next in a story using clues presented in text.
Create questions about the main idea, message, or plot of the text.
Monitor understanding of the sequence, context, or characters.
Clarify parts of the text which have confused them.
Connect the events in the text to prior knowledge or experience.
To give your kid a window into the self-monitoring that skilled readers engage in as they read, demonstrate some of the reading activities for students listed above while you read aloud with them. Periodically stop and ask questions to make sure that they comprehend the story.
If you are reading a confusing passage, stop and say, "I didn't understand that. Did you?" Ask them to interpret the text, and after listening to their interpretation, say: "Interesting, Let's check and read this part again." Reread the passage and then discuss your new understanding.
Time4Learning teaches reading comprehension on the computer in a number of ways. There are variety of computer reading lessons for students, which help young readers develop skills in approaching, reading, and interpreting text. Take a demo of Time4Learning's computer reading programs.
My daughter has a great time with Time4Learning. She thoroughly enjoys the reading part of the lessons and is able to really expand her phonics and reading, skills in a fun and interactive way.
On timed reading assignments, my son has to beat the clock. Then he is scored and asked to read the assignment again with more fluency. I love that the emphasis is on reading fluently.
Remedial Reading Programs
There are many computer reading programs that claim to offer remedial reading instruction. However, these claims can be rather misleading, because "remedial reading program" can refer to a broad range of reading activities from assisting with developing reading basics to addressing significant reading difficulties, such as dyslexia.
While Time4Learning's computer reading programs can offer a complimentary fit to many remedial reading programs, parents should consult with teachers and reading professionals to diagnose their child's reading problems before implementing any remedial reading programs.
The Reading Skills Pyramid
The Reading Skills Pyramid visually depicts the patterns of concept acquisition that children follow in becoming successful readers up through third grade. We recommend a high level of parent involvement in this process by providing high quality educational materials, establishing a pattern of daily reading, creating a rich language environment, and discussing your child's progress with teachers and following up on their recommendations. While most children follow the same sequence of acquiring literacy skills, they do so at their own pace. All children are different: if you have questions or concerns about your child's progress in reading, contact his or her teacher.
The "What Works?" Report found that the five key areas in learning to read are phonemic awareness, phonics, comprehension,vocabulary, and fluency.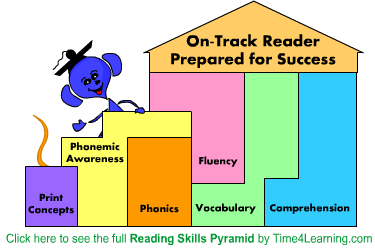 Order a printed wall copy of the Reading Skills Pyramid.